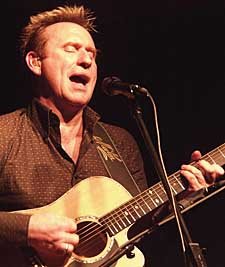 Singer, guitarist, and main songwriter of Australia's Men at Work, whose first album, 1982's Business as Usual, set a record for the most weeks at #1 on the U.S. charts for a debut album. The singles "Who Can It Be Now?" and "Down Under" also went to number one in the U.S.

One of the most successful albums of the early 1980s, Business as Usual has been certified for 6 million sales in the United States and an estimated 15 million copies worldwide.

Men at Work won the Grammy Award for Best New Artist at the Grammy Awards of 1983.

The band's second album, 1983's Cargo, reached number three on the U.S. charts, with 3 million in sales. Three hit singles emerged from that album: "Overkill," "It's a Mistake," and "Dr. Heckyll and Mr. Jive."

Men at Work broke up in 1985, and Colin has been releasing albums as a solo artist since 1987, including 2003's Man at Work.