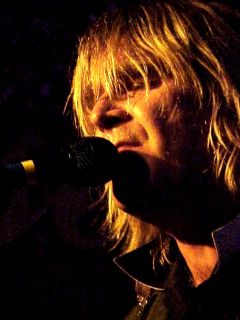 This post is dedicated to ALARM frontman MIKE PETERS who revealed just before Christmas that he is receiving treatment for
cancer.


A-HA will play a special in store set and do a signing session at London's Oxford Street HMV on January 30th to mark the UK release of their new album Analogue, which is released on the same day.

NEW ORDER website neworderonline.com is looking for bands interested in covering a NEW ORDER track for a forthcoming tribute album they're working on. The site released their first NEW ORDER tribute, Community, in 2004 and are working on compiling Community 2 for this year.

PSYCHEDELIC FURS frontman RICHARD BUTLER has announced a series of solo shows in the US during March and April to promote his forthcoming solo album Richard Butler, which is scheduled for a March release.

ADAM AND THE ANTS will release their long-overdue DVD, Digital Tenderness in March.

PET SHOP BOYS have remixed the new MADONNA single "Sorry," featuring additional vocals from NEIL TENNANT, which will be released in February. It is currently undecided whether the mix will be used promotionally in the clubs or will feature on one of the single's commercial formats.

THE STRANGLERS have released a live album, Coast to Coast, exclusively via their website. The album will feature 18 tracks recorded live on the band's "Norfolk Coast" tour last year and is limited to just 2000 copies.

Former SPANDAU BALLET frontman TONY HADLEY has started to confirm shows for what is shaping-up to be an extensive UK tour. The By Request Tour will support his upcoming swing album.

IAN MCNABB will celebrate the 25th Anniversary of his former band THE ICICLE WORKS with a tour dedicated to the band's catalogue and a new ICICLE WORKS album, however none of the other members of the original band will be involved.

OMD are to reform this year to tour and to record a new album. The reunion will feature ANDY MCCLUSKY, PAUL HUMPHREYS, MAL HOLMES, and MARTIN COOPER, and is expected to kick off with a UK tour in September which may expand internationally in the lead up to the release of a new album in Spring 2007. The band are also expected to announce special showcase performances which will see them perform their Architecture & Morality album in its entirety.

SCRITTI POLITTI will release their much-anticipated new album in March, with one (excellent!) track "Boom Boom Rap" having already been played on the radio.

MISSING PERSONS have reissued their 1982 debut album Spring Session M, which is now available with two bonus tracks "Mental Hopscotch," and "Hello, I Love You."
Material courtesy: remembertheeighties.com