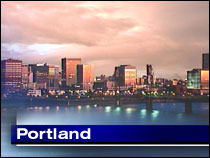 Portland Oregon has been named one of the top 18

New American Dream Towns

by Outside Magazine.

Judging was based on "commitment to open space, smart solutions to sprawl and gridlock, can-do community spirit, green-thinking mayors, healthy job markets, and an active embrace of adventurous life."

Other cities making the cut included Salt Lake City, Charleston, South Carolina, Fort Collins, Colorado, Madison, Wisconson, Davis, California, Littleton, New Hampshire, Chicago, Illinois, and Pasadena California.

It's another accolade for Portland, Oregon. Recently, Portland was voted among the top U.S. cities in terms of quality of life and "wired" internet connectivity.


Photo and material courtesy: katu.com