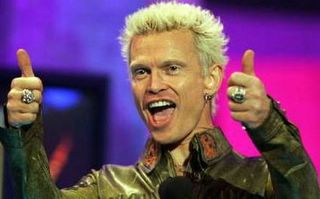 From abc7.com comes the brilliance of William Idol: "Pushing now might not be a bad idea considering today's 80's rock revival. 'Everybody is trying to come back, I know,' (says Idol), 'with what's going on in the world people want a sense of fun cause they are concerned.'"

Check out this week's Remember The 80's news and you will see that Mr. Idol isn't lying, and I am not crazy.

The Waterboys and Gene Loves Gezebel on tour? Roxy Music back in the studio? The Human League possibly recording new material? Bananarama releasing a new single?

RE-VIVAL! RE-VIVAL! RE-VIVAL!