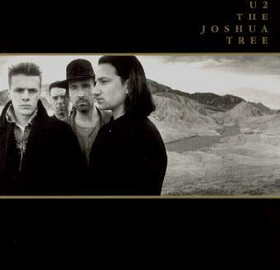 As part of their 50th Anniversary celebration, the Official UK Charts Company asked their readers to vote for their favourite UK #1 albums of all time. The Top 100 was broadcast on BBC Radio 2 on Monday Aug. 28, 2006.

The Beatles Sgt Pepper's Lonely Hearts Club Band came in at #1, Michael Jackson's Thriller at #2, and Waist High favorite The Joshua Tree came in at #3.

"There is within music an ability to tap into the raw, revelatory power of beauty; music can give itself to the unknown whisper of the eternal in ways that other forms of art only hint at. The collage of sounds communicates something deep to the heart and, when combined with the presence of the voice, can be downright liberating. Few individuals, let alone bands, ever really reach a point where they are that open to the Unknown that it can give itself so freely through their music. U2 has done so time and again, but never with the level of directness and sincerity as they accomplished on The Joshua Tree."

Because it is not bakersfield.com, and because you can read the article without logging in, check out the
Top 100.


Quote: Benjamin via amazon.com