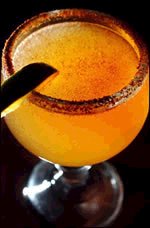 TOP 5 WORST TASTING BEER COCKTAILS

Michelada
Pour beer into a glass filled with ice and add the juice of one small lemon. Add a dash of soy, Tabasco and Worcestershire. Add a pinch of salt and pepper. For some, a true Mexican Michelada is not complete without a shot of Tequila mixed in.

Beer Margarita
1 (6 ounce) can frozen lemonade concentrate
8 fluid ounces vodka
3 (12 fluid ounce) cans or bottles beer
Empty lemonade concentrate into pitcher, do not add water. Pour in vodka and beer. Serve over ice.

Spicy Red Beer
(12 fluid ounce) can or bottle beer
1 (5.5 ounce) can tomato-vegetable juice cocktail
1 dash Louisiana-style hot sauce
1 dash Worcestershire sauce
1 pinch seasoning salt
In a frozen beer mug combine tomato-vegetable juice, hot sauce, Worcestershire sauce and seasoning salt. Pour in cold beer.

The Read-Headed Step Child

1 pint beer
1 (1.5 fluid ounce) jigger whiskey
1/2 (1.5 fluid ounce) jigger grenadine syrup
Pour one pint glass of beer. Measure a shot of whiskey, and pour in. Top with 1/2 shot of grenadine.

Zima Plus
1 (12 fluid ounce) can or bottle of clear malt liquor
1 (1.5 fluid ounce) jigger of blackberry brandy
Pour the malt liquor over ice in a tall glass. Stir in a shot of blackberry brandy.

Material: drunknewsblog.blogspot.com