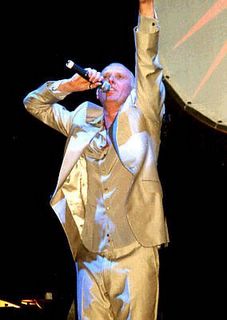 Taking their name from a fictional pop group mentioned in Anthony Burgess's novel
A Clockwork Orange
, Heaven 17 formed when Ian Craig Marsh and Martyn Ware split from their earlier group The Human League and formed production company British Electric Foundation (BEF). Shortly after, they recruited their good friend and photographer Glenn Gregory on vocals to complete their lineup.
Heaven 17's biggest hit, "Temptation," is said by some to have defined the 1980s.
Glenn Gregory has gone on to work with an exciting range of artists including Tina Turner, Grace Jones, Propaganda, Terence Trent D'Arby, Ultravox, Midge Ure, John Lydon, and Martin Fry. Glenn most recently teamed up with Keith Lowndes, who toured with ABC before becoming an internationally renowned DJ, and formed Honeyroot, producing what they call "soulful electronica."
Asked by Melvin Welters in 1997 what is the best Heaven 17 track and album, Gregory had this to say:
"Oh I don't know. I suppose it's not that hard really. My favourite Heaven 17 track is 'Let Me Go.' And now you want to know why. Well, I think it's the song we all feel should have done better, it's almost the song I would like to be remembered for (but I guess that's going to be Temptation.) It took a lot of getting right but once we were there we all really loved it, we were convinced it was a top ten hit (it wasn't). Maybe there's still time? The best album though I have no problem with,
Penthouse and Pavement
. My first ever recordings, and nothing can better that experience."
Material: wikipedia.org, bbc.co.uk & abcmartinfry.com
Photo: abcmartinfry.com