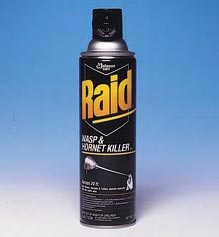 After
marijuana "enhancer"
and
pesty neighbor control,
say hello to the third best use of everyone's favorite insect killer:
Woman Allegedly Hits Two With Raid Can
ATHENS, Ala. (AP) -- A woman was charged with domestic violence for allegedly hitting her husband and another woman on the head with a can of Raid bug spray after she found them together.
Police Sgt. Trevor Harris said a "nosy neighbor" called the woman at work on Friday and told her that her husband was at their apartment having an affair with another woman, prompting the wife to head home.
"She came in and caught her husband with another woman and she grabbed a can of Raid and went at it," said another officer, Capt. Marty Bruce. "She hit the husband in the back of the head with it and then turned on the woman and also hit her in the head."
The woman who was struck needed stitches for a head wound, police said, and the husband also was cut but did not require medical treatment.
Cornelia Cottrell Smith, 26, of Athens was arrested on a misdemeanor charge of domestic violence and released from the City Jail after posting a $1,000 bond. No one answered a call Tuesday at a telephone number listed for her address.