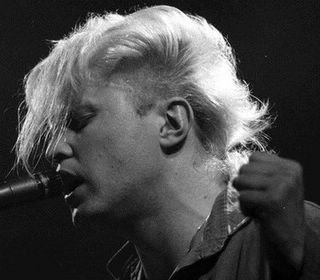 In 1980, hairdresser Mike Score formed A Flock of Seagulls with his brother Ali (drums), fellow hairdresser Frank Maudsley (bass), and guitarist Paul Reynolds.

The group released its debut EP on Cocteau Records early in 1981, and its lead track, "Telecommunication," became an underground hit in Euro disco and new wave clubs. The band signed a major label contract with Jive by the end of the year, and their eponymous debut album appeared in the spring of 1982.

"I Ran (So Far Away)" was released as the first single from the album, and MTV quickly picked up on its icily attractive video, which featured long shots of Mike and his distinctive, cascading hair. The single climbed into the American Top Ten, taking the album along with it. In the U.K., "I Ran" didn't make the Top 40, but "Wishing (If I Had a Photograph of You)" reached number ten later that year. In America, that single became a Top 40 hit in 1983, after "Space Age Love Song" peaked at number 30. The song "Wishing" was taken from the group's second album, Listen.


All material quoted directly from: nfo.net/calendar/nov06.htm & music.yahoo.com
Photo courtesy: Philippe Carly via newwavephotos.com