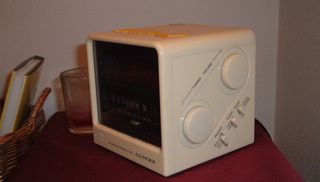 Today was a very sad day in the offices of Waist High. It has been very quiet around here as we mourn the loss of a good friend.

Waist High regrets to announce that her beloved clock radio, a sweet 16 birthday gift in 1984, has passed away. Trusted, reliable, and well traveled, we will miss the only clock radio we here at Waist High have used in the last 21 years.

It was a slow death that began about 30 days ago for the good looking clock radio manufactured by the Lloyd's Company. Lloyd no longer alerted Waist High that it was time to get up, with that old familiar BEEP BEEP BEEP, he just kind of began to make a hissing sound, HISS HISS HISS, until today when he no longer made any sound at all.

Lloyd, we will miss you so.